Are you eager to create meaningful content that connects with people and makes a real impact? Look no further than TikTok – the cultural phenomenon that has captured millions worldwide.
The app's immense audience size makes it an ideal platform for businesses to tap into diverse demographics, attract new customers and boost sales. Therefore, now TikTok is more than just entertainment; it's also blazing trails in the marketing industry.
With the 4th highest audience engagement rate, TikTok has become the go-to social media platform for over 53% of marketers to take their digital marketing campaigns to the next level. [Source: HubSpot]
By embracing TikTok ads, marketers can broaden their digital capabilities by taking advantage of cutting-edge formats designed to captivate audiences at scale. So, if you want to maximize visibility and engagement, invest in TikTok ad campaigns.
This article is your guide to learn about six different types of TikTok ads. So, let's dig right in!
6 Types Of TikTok Ads
Here are the 6 different types of TikTok ad campaigns you should know about:
1. In Feed Advertisements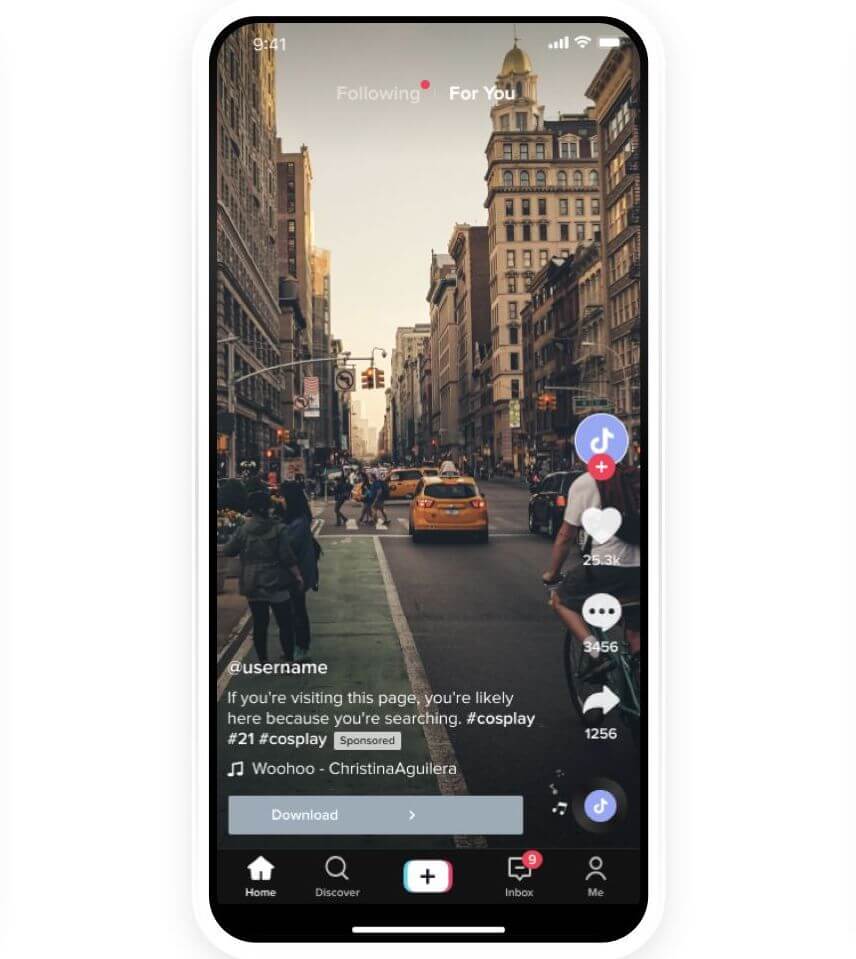 Consumers today demand advertisements that not only capture their attention but blend into their browsing experience naturally. TikTok addresses this need with its In-feed ad format.
In-feed ads seamlessly integrate marketing content into the users' feed as they navigate through their "For You Page" (FYP). Yup, these are the ads that pop up while you're scrolling through your TikTok "For You Page" (FYP).
In-feed ads can be up to 60 seconds long, but the sweet spot seems to be around 9 to 15 seconds because longer lengths tend to lose engagement from the audience. According to stats, TikTok ads viewed for six seconds or less perform better than ads viewed for 20 seconds or longer. [Source: HubSpot]
The cool thing is that users can interact with these ads. They can like, comment, and even share them. While these formats harness organic interaction from users by providing likes, comments, and shares, it also prioritizes user agency. This means that users can skip the ad with just a single tap if it does not interest them.
Overall, in-feed Ads serve as perfect entry points for businesses looking to explore TikTok advertising; they are accessible, easy to create, and commonly used worldwide.
In-feed ads are for:
Subtle Marketing: If you're a brand that wants your ads to seamlessly blend in with the native content feed instead of being too in-your-face, In-Feed ads are your go-to.
Physical Goods: These ads are perfect for businesses selling physical products, especially consumer packaged goods (CPG). You can show off your products in action, making them irresistible to potential customers.
Beginners: They're a great starting point for anyone new to TikTok advertising. They're the most common ad format and the easiest to create.
2. Spark Ads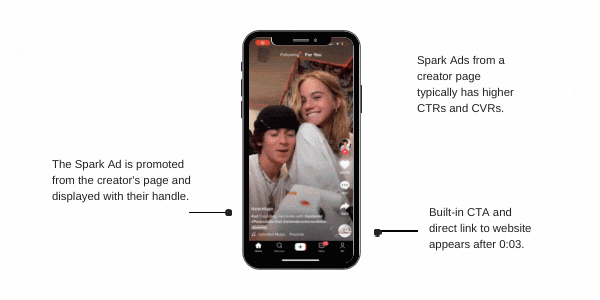 Connecting with TikTok users requires a tone that is both conversational and relatable, something that Spark ads can deliver in spades. These ads offer a unique opportunity for brands to showcase their existing TikTok content and user-generated videos without starting from scratch.
They blend so seamlessly into users' feeds that they might even feel like organic content! A fantastic feature of this ad is that it can link directly to any specific TikTok account; this way, viewers can explore brand or creator profiles further.
Thus, all the engagement generated during promotional campaigns – such as video views, comments, shares, likes, and follows – are attributed to the poster's account, promoting the profile, and improving their overall TikTok presence.
Furthermore, viewers can access that track's audio page by just tapping on the ad's music icon, providing them with endless opportunities to use it in future TikTok creations.
Spark ads are for:
Sharing Old Content: Spark Ads are an effective marketing strategy for brands looking for unique advertising opportunities that avoid creating new videos from scratch.
Viral Content: Spark ads suit various brands' types and advertising objectives, especially those having viral content, as they capitalize on existing popularity.
Engagement and Exposure: These ads are also for brands focused on increasing audience engagement and expanding brand awareness instead of direct sales alone.
3. Top View Ads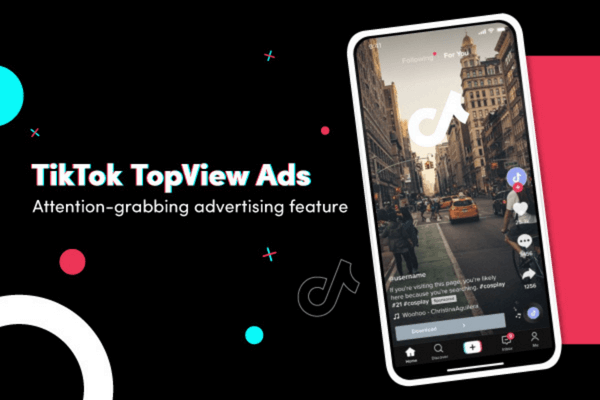 How can brands make an impact in today's world of constant distractions and short attention spans? The answer lies in Top View Ads on TikTok. This unique advertising format is specifically designed for maximum impact: full screen with sound lasting for a whole minute at the start of every app session.
Not only can these ads direct viewers to specific landing pages using built-in call-to-action buttons, but they are also reported to be the most effective in captivating users' attention. Over 70% of the surveyed TikTok users responded that they prefer Top View ads over other ad formats. [Source: TikTok]
However, it's important to note that some users may find these lengthy advertisements disruptive or irritating. While some users may be annoyed by these ads, there's no denying their effectiveness in standing out and driving up sales.
Top View ads are for:
Big Budgets: Top View ads have a higher price tag and are better suited for companies with significant ad budgets.
Popular Brands: This kind of advertising can prove highly lucrative for large brands with dynamic ad content and an impressive TikTok presence.
4. Brand Takeover Ads
Brand Takeover Ads are full-screen ads appearing on users' For You Pages (FYP) with short but compelling videos or images designed to immediately catch their attention. With clear campaign objectives in mind, these ads guide users towards taking action, whether participating in a Hashtag Challenge or exploring more content on a landing page.
Users only see one Brand Takeover Ad per day, meaning there's less competition for ad space and more opportunity for brands to get noticed. Brands like Elf, Guess, and Ralph Lauren have utilized these ads flawlessly to generate excitement around new product launches.
The challenge with Brand Takeover Ads lies in creating content that stays with viewers long after seeing it, which resonates and makes them want to take action. Moreover, given the high demand and limited supply of this premium advertising real estate, securing one can come at a steep cost.
Top View ads are for:
Creating A Buzz: Are you trying to create some major buzz around an event or get your hashtag trending on TikTok? If so, Brand Takeover Ads are perfect.
Product Launches: Product launches are another great opportunity to use these ads because they will grab the audience's attention and stir anticipation.
Big Brands: With less competition for the limited daily slot available on TikTok, bigger budget brands can increase their visibility and leave a lasting impression amongst users.
5. Branded Hashtag Challenge Ads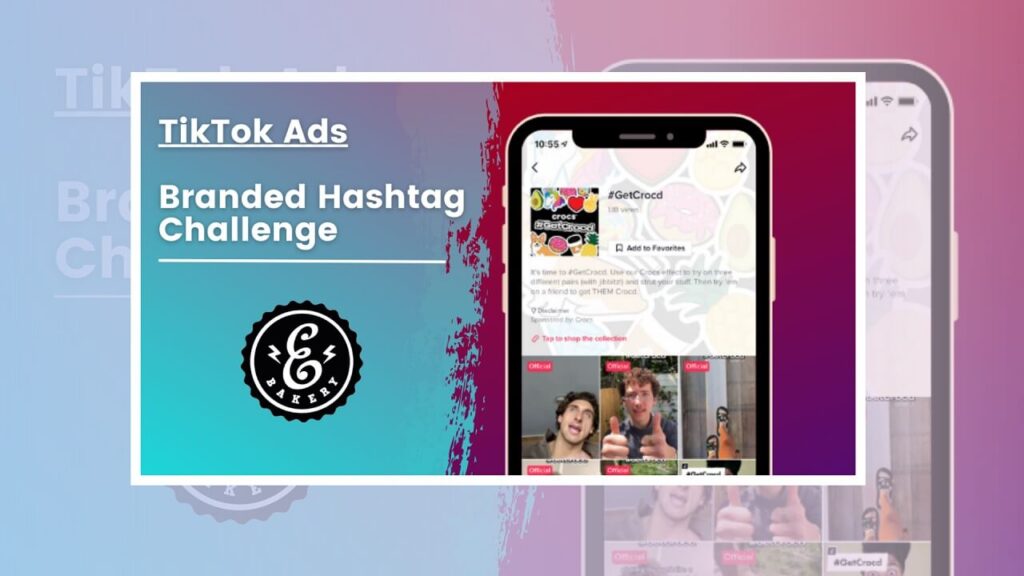 Are you looking for some fun marketing tactics that can help boost engagement on TikTok? Look no further than branded hashtag challenges. These campaigns are super entertaining and inspire creativity among viewers too.
You know that Discover Page on TikTok? Well, at the top, you'll find these sponsored hashtag challenges. They're like mini adventures waiting to be explored.
When users click on the ads at the top of TikTok's Discover Page, they're directed toward dedicated Brand Challenge pages packed with all sorts of information – from detailed rules of play and sponsor logos to their homepage links.
But what really makes these campaigns shine is YOU – powered by your imagination – filming videos based on the challenge prompt and using the relevant hashtag to get your content out there.
You could showcase your dancing skills, comedic timing, or musicality. It's all about expressing yourself while keeping within the boundaries of the campaign's sponsoring brand.
A great example of branded hashtag challenge ad is Wet n Wild's #BiggerIsBetter challenge, which took TikTok by storm. Thousands of users participated, generating a whopping 1.5 million video creations!
Branded Hashtag Challenge ads are for:
Encouraging UGC: If your brand is looking to increase user-generated content or already has established well-known hashtags from other platforms – Branded Hashtag Challenge Ads could be just what you need to boost your reach on TikTok.
Enhancing Discoverability: For businesses looking to increase visibility and exposure, there's no better way than through Branded Hashtag Challenge Ads on TikTok.
Increasing Engagement: This powerful tool is perfect for big brands and small businesses alike. It not only delivers impressive results but also brings loads of engagement.
6. Branded Effects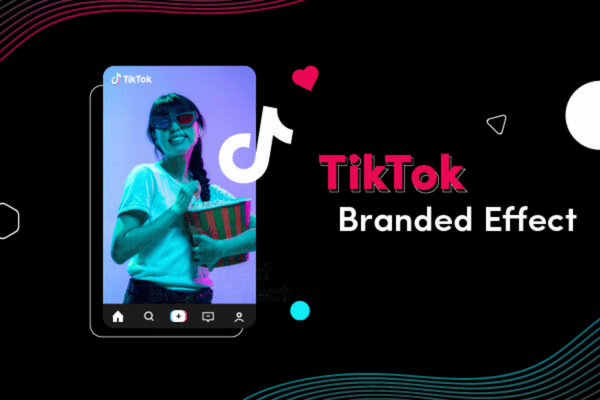 Like filters and stickers on Instagram or Snapchat, branded effects allow brands to create their own set of unique features for users to include in their videos. These include stickers, filters, effects, GIFs, etc.
These effects are specifically designed for brands to promote their products, services, or campaigns in a unique and engaging way on the platform. Moreover, brands can target specific demographics or interests to ensure relevant users see their effects.
Branded Effects are for:
Building Brand: Users with a solid following can use branded effects to strengthen their brand and take their content to the next level.
Digital Presence: These effects allow businesses to inject their logo, slogan, or any other brand elements into videos, increasing brand visibility and recognition.
Brand Recall: Businesses launching a specific campaign or promoting a particular product can benefit from using branded effects. It helps create a consistent and recognizable visual identity for the campaign or product, making it more memorable and shareable.
Conclusion
TikTok isn't just for dance challenges and lip-syncing anymore. It has become a powerful tool for marketers. With its ability to capture attention quickly and offer a fun interactive experience for viewers, this platform is perfect for brands seeking a fresh way of reaching audiences.
Did you know: 92% of TikTok users are inspired to take action after watching ads on TikTok? These include participating in a challenge, following a profile, visiting the advertiser's site, or purchasing a product. [Source; Hootsuite]
So, if you want to grow your social media presence and propel your business forward, experiment with different types of TikTok ad formats!