So you've heard that TikTok is the next big thing in the world of social media, and now you want to get involved. You've made the right choice; any social media influencer worth their salt needs to be on TikTok right now. However, if you're an absolute beginner to the app – or, indeed, if you've never been on social media before – then you might find the whole process just a little daunting. Don't worry – this is more common than you might think. Here's how you can get started making videos on TikTok, plus a few tips to help you make the best videos you can possibly make.
Create a TikTok account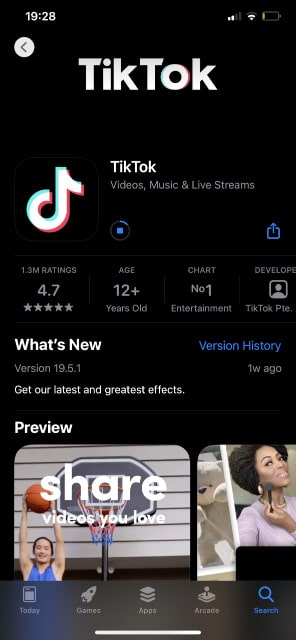 You won't get very far on TikTok without creating an account. Luckily, that's incredibly simple to do. Once you open TikTok, you'll be prompted to create one before you can go any further into the app. Simply follow the prompts and set up your account. You can use various methods to log in, so if you don't want to use your email address, you can use other social media platforms.
Familiarise yourself with TikTok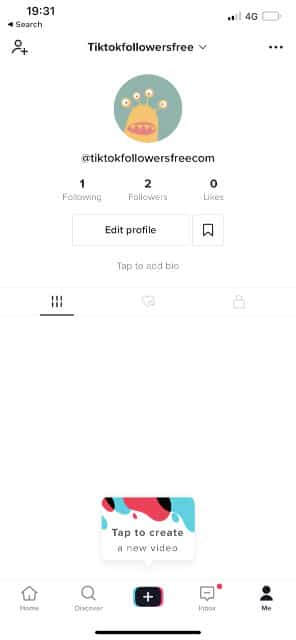 When you do get a TikTok account, you'll be greeted by the main page, which will probably be showing a video. From there, you can tap the Plus icon at the bottom of the page, which will take you to the video creation screen. You'll see a whole bunch of tools there. Let's take a look at what they do!
Tools across the right-hand side
There are five controls available to you here. They are as follows.
Flip: This one changes the camera you're using from front-facing to rear-facing and back.
Speed: Here, you can change the speed of the video you create. You can choose from 0.3x, 0.5x, 1x, 2x, and 3x speed.
Filters: TikTok comes complete with a range of filters you can access to make your video pop that little bit more. Choose one that will help your content stand out!
Enhance: This tool lets you smooth out aspects of your video. Be sure to use this sparingly.
Timer: As you might expect, this one lets you set a timer so you can delay the beginning of your recording
Tools across the bottom and top
Here, you'll find several options that allow you to do different things from within the TikTok video creator. Here's what you can do.
Effects: Add a range of effects to your video, including stickers, overlays, and more. Choose the one that best suits the content!
Upload: You can choose videos or images from your gallery to upload to TikTok here.
Times and templates: Here, you can choose how long you want your video to be, as well as selecting from a range of different templates.
Add sound: Here, TikTok will let you add music or sound effects to your video. This is the beating heart of TikTok, so choose a song people will like!
The record button: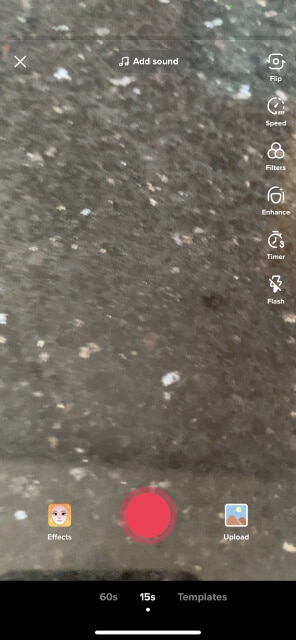 By tapping the record button, you'll start filming whatever you're aiming at. You can pause recording and resume so as to create edits on the fly, so if you mess up, don't worry – there's always a chance to start again. After you're done, you can add a range of content to your video. Here's all the stuff that's accessible to you in the post-production phase of your TikTok video!
On the right:
Some of the options here are the same as before, but there are some new ones, too.
Filters: Apply a range of filters to your content.
Adjust clips: This feature lets you edit the clips you've created in order to arrange them or fix problems.
Voice effects: Here, you can add a range of different effects to your voice or the sound in your video. These include pitch shifts, modulation, and more.
Voiceover: As you might imagine, this one lets you record a new voiceover for your video so you can add some fun narration.
Along the bottom:
There's plenty of fun stuff here to play with once you've recorded your TikTok video.
Sounds: Choose from a range of sounds on the TikTok app to add to your video, including soundscapes and more.
Effects: You can add advanced filters and post-production effects like a glitch aesthetic or transition to your video here.
Text: Add text to your video, and choose from a range of fonts and formatting options for the text.
Stickers: Just like in pre-production, you can add stickers to your video to help you express the idea behind your TikTok content.
What do I do once the video is complete?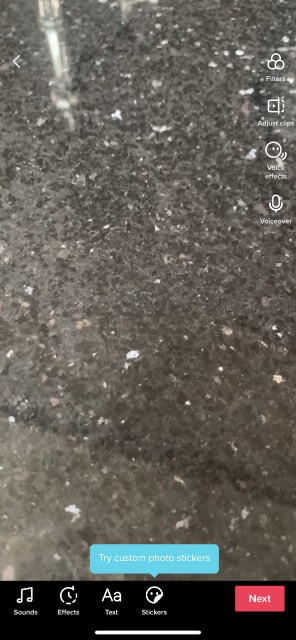 Once you've edited your video and you're happy with the way it's looking, you'll be greeted with the "Post" screen. Here, you can set various parameters including who can see your video and what the caption will look like. Here's a rundown of what you can expect on this screen.
Description: Describe your video briefly. Be sure to add as many hashtags and tag as many people as you can, because that's how you'll increase TikTok visibility!
Settings: You can select who can access your video, whether they can comment on it, and whether other users can Duet or Stitch with your video. You can also choose whether or not to save the video to your device.
Automatically share: Here, you can tell TikTok whether to automatically share videos to your other social channels including WhatsApp and Instagram, among others.
That's it! Once you've set up all these options and you're happy with your final product, it's time to post your video! Best of luck creating TikTok content, and we hope this guide has been helpful!