One of the most important aspects of TikTok is undeniably the creativity involved in users making videos. Some of the most popular and successful TikTok videos have thrived in part because of their creativity; their creators' unique approach to personality, composition, and editing have made them massive stars rather than simply creating off-the-cuff videos. One of the most popular ways in which TikTok creators craft videos is to duet with one another; to splice each other's content into videos they create, then alter that content by adding a unique take or some comedy lines to make it their own.
With that in mind, it was only a matter of time before TikTok and its parent company ByteDance decided to introduce something that would mesh well with this aspect of its community. That is, of course, exactly what they have done; enter Stitch. As TikTok describes it, Stitch is a new editing feature that allows its users to embed even more creativity and collaboration within their TikTok videos and content, and it's a way for the community to interact with one another beyond simple messages or invisible collaborations. Stitch will make it easier for TikTok users to work with one another and create things together.
What is Stitch on TikTok?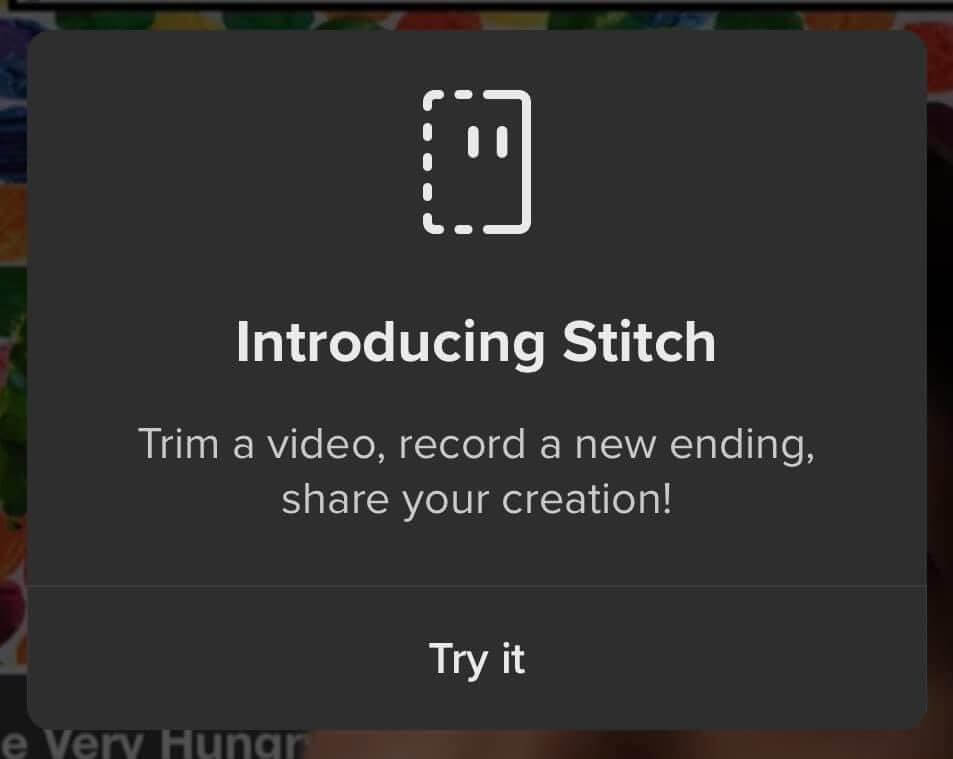 So, what exactly is Stitch? Effectively, it's a tool that allows you to craft and work on duets with other users directly within the TikTok app. The official TikTok announcement describes Stitch as allowing users the ability to "clip and integrate scenes from another user's video into their own". In this way, it is very similar to Duet, a feature that TikTok already has. It's a "way to reinterpret" others' videos and content and add your own unique spin to them. TikTok uses examples like "stories, tutorials, recipes, math lessons, and more".
You're probably wondering how to get started with Stitch if you're itching to collaborate with other users and modify their content. Thankfully, this aspect couldn't be easier. All you need to do is open up the TikTok app and find the video that you'd like to use Stitch with. After you've found that video, hit the "Send to" button, and you should notice a new option in the subsequent menu labeled "Stitch". Tap that button and you'll be taken to an editing window in which you can clip up to five seconds of your chosen video. You can trim the clip as much as you like.
After this, it's time to record your personal addition to whatever clip you've just Stitched. Make sure that the clip you're recording doesn't violate any of TikTok's terms and conditions; it's one thing to do this with your own content, but if you start dragging other users into it as well, it won't end well for your budding influencer career. You can Stitch together multiple videos, too, allowing you to create extended narratives or comedy routines (or even albums' worth of lip-sync content!) with this new feature. It's that simple, so get started if you're interested!
Privacy Settings on Stitch
If you have privacy concerns surrounding Stitch, don't be too perturbed; TikTok will allow you to decide whether or not you want other users to be able to use Stitch with your content. To do this, simply head over to your Privacy and Safety page in "Settings and Privacy". There, in a similar fashion to Duet, you'll find an option to toggle whether or not users can Stitch your videos. You can also use this option for individual videos in case you don't want to set a blanket rule on your content but do want certain videos not to be Stitch-compatible.
Another potential concern regarding Stitch is attribution, but this isn't something you'll need to worry about either. TikTok says that every single video created with Stitch "attributes the original creator in the new video's caption". This attribution will also link directly to the original video, so anybody who is watching the new Stitched creation will be able to tell exactly where it came from. This will be a boon for any creator struggling to get views; if you can get your video Stitched by a prominent influencer, everyone will know exactly where that content came from!
So that's TikTok's new Stitch feature in a nutshell. It's built to enable collaboration between creators, so if you've been holding off on working with someone else via TikTok until now, Stitch's implementation should provide the perfect excuse to approach that person. We hope you have lots of fun with this new TikTok feature!